March 11, 2022
Rahmatullah Firdousi – What is your legacy?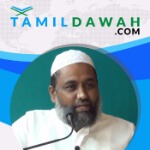 Podcast: Play in new window | Download (Duration: 40:12 — 9.2MB) | Embed
நமக்குப்பின்னால் | After us
மவ்லவி ரஹ்மத்துல்லாஹ் ஃபிர்தவ்ஸி | Rahmatullah Firdousi
11-03-2022, Jumma
Masjidus Salam, Chennai
Abu Huraira (Allah be pleased with him) reported Allah's Messenger (ﷺ) as saying:
"When a man dies, his acts come to an end, but three, recurring charity (Sadaqah Jariyah), or knowledge (by which people) benefit, or a pious son, who prays for him (for the deceased)."
Sahih Muslim
Visit http://www.tamildawah.com/ for more tamil bayans.

Listen the audio bayans on our app for Android. Or use Apple Podcasts for iTunes.

Visit http://www.tamildawah.com/app/ for more details.